SCOTT SANCHEZ, GUITAR ARTIST
American born guitarist Scott Sanchez is often praised for his virtuosic and musically passionate performances. Referring to his British debut Classical Guitar Magazine (London, England) said, "Sanchez drew the audience into his playing with his excellent performance… a performance which at times was introspective and at others extrovert." David Leisner, world renowned classical guitarist, and chair of the classical guitar program at the Manhattan School of Music called his playing "Very engaging, virtuosic and spirited." Some of the highlights of Mr. Sanchez's past concert seasons have included recitals and masterclasses for the New York City Classical Guitar Society; St. Bride's Church in London, England; Bournemouth University in Dorset, England; King's Chapel in Boston, Massachusetts; University of Kentucky in Lexington, Kentucky; and Ventura Classical Guitar Society in Camarillo, California.
 
Sanchez's three cds on Intraspect Productions cover a vast repertoire spanning the music of the Baroque era to modern day masterpieces. In addition to his interpretive skill, his recordings also exhibit his masterful skill at transcribing and arranging music for the guitar. He recently recorded two concert etudes by Ricardo Iznaola, for the Contemporary Anthology of Solo Guitar Music for Five Fingers of the Right Hand, published by Mel Bay Publications. In a review of his most recent cd, entitled Lattice Work, Classical Guitar Magazine stated: "It must be said that throughout this hour's worth of music, Scott Sanchez shows himself in a very good light: he has the finesse and the musicianship to bring out the best in his chosen programme: his rich-toned phrasing and 'colouring' is very expressive and finely calculated yet having a naturalness to it. The disc is superbly recorded and the playing throughout is exemplary with Sanchez taking great care with details such as tone and phrasing and he has a charming way of fashioning the melodic lines from his guitar." In addition to his solo concerts, Sanchez has also frequently performed with chamber musicians, choral groups, and as soloist with orchestra. Scott Sanchez is also active as a writer on music and his articles have frequently been published in international periodicals such as Soundboard Magazine (U.S.A.) and Classical Guitar Magazine (Great Britain).
 
He has taught at Wesleyan University, Trinity College, UMass Amherst, and Springfield College.  He is currently on the faculty at Franklin Pierce University in New Hampshire. He earned his Bachelor's of Music degree at the University of Denver as a student of the Cuban classical guitarist, Ricardo Iznaola, and graduated with a Master's of Music degree from Yale University where he was a student of the American classical guitarist, Benjamin Verdery. As a student, he also performed in masterclasses for renowned guitarists such as Eliot Fisk, David Russell and Pepe Romero, among others.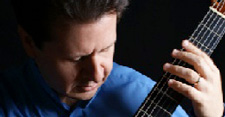 CONNECT
Website
Facebook