Endowments
Making a gift to one of the Fine Arts Center endowments is smart way to ensure vibrant arts programs both now and in the future. With careful investment policies targeted for long-term growth, endowments continue to maintain their value. This is because the Center uses only a portion of the interest income each year and the remaining annual return is re-invested by the UMass Foundation so that the principal can grow to keep pace with inflation.
For more information about endowment giving, please contact the Development Office at 413-545-3671
Frederick C. Tillis Endowment for the Arts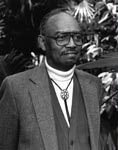 "It is my hope," says Dr. Frederick Tillis, "that the 21st century will be a time of renaissance for art and culture. I believe in the arts from diverse people and nations, and I believe in their power to give us joy and hope." When Dr. Tillis retired as Director of the Fine Arts Center in 1997, the Friends of the Fine Arts Center established an endowment in his honor that annually supports performances, exhibitions, and educational programs. This endowment ensures high quality arts programs for future generations of students and area residents.
To learn more about Dr. Tillis: http://www.fredericktillis.com/
Billy Taylor Endowment for Jazz Residencies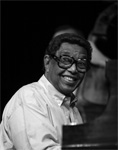 "Artists are natural teachers," says Dr. Billy Taylor, UMass alumnus, faculty member, and world-renowned ambassador of jazz. So certain was Taylor of the enlightening effects of artists on students, that he and his wife, Teddi, established an endowment for jazz residencies so that students could have direct contact with professional jazz artists outside of a traditional classroom environment. It is Dr. Taylor's hope that students will be inspired by first-hand interactions with artists sharing their music and personal experiences. The endowment fund has made it possible for young musicians to engage in residencies with jazz artists such as violinist Regina Carter, vibraphonist Stefon Harris, vocalist Nnenna Freelon, Miguel Zenon jazz quartet, clarinetist Anat Cohen, and percussionist Dafnis Prieto
To learn about Dr. Taylor: http://www.billytaylorjazz.net/
Fletcher Henderson Memorial/Max Roach Fund for Scholarships
The Henderson/Roach fund forms a unique bridge with the Afro-American music and jazz studies faculty by awarding a scholarship each year to a student recommended by the faculty. The balance of the income from the invested principal goes to scholarships for Jazz in July.
Joyce E. and Benedict J. Smar Endowment for Angel Tickets
Recently established as a memorial, this fund perpetuates the Angel Ticket program, created and established by Joyce Smar, Director of Programming at the Fine Arts Center for 10 years. The fund provides complimentary tickets for underserved populations throughout Hampshire, Hampden, and Franklin counties through 75 human service agencies.
Paul G. and Elaine S. Marks Art Acquisition Fund
Established with the express purpose of adding to the permanent collection of the university held at the Fine Arts Center's University Museum of Contemporary Art , this endowment isd currently the only fund benefitting the visual arts programs.
Jazz In July Summer Music Programs Endowment
The Jazz in July Summer Music Programs Endowment was established to provide funding in support of the educational and performance components of the Jazz in July Summer Music Programs at the Fine Arts Center with income used to supplement student scholarships, programming and artist fees as needed.
Asian Arts & Culture Endowment
Established in support of Fine Arts Center programming representing different facets of Asian and Middle Eastern cultures found in locations around the world. More..