SOS (Summer On-screen Series) at Hampden Gallery
Curated by Sally Curcio
New works by artists created during the Covid-19 pandemic of 2020 that both respond to and reflect on these uncertain times. Seemingly overnight, methods  of communication have shifted dramatically across the globe, traditional venues have closed, and uncertainty rules. Artists, undeterred, use Zoom and other digital platforms as their medium and their venues.
Artists and curators featured: Yasin Aribuga, Chenda Cope, Hannah Duggan, Avery Forbes, Cima Khademi, Nima Nikakhlagh, Abbey Paccia, Claire Sianna Seaman, Elizabeth Sobieski, and Jenny Vogel.
Biographies

YASIN ARIBUGA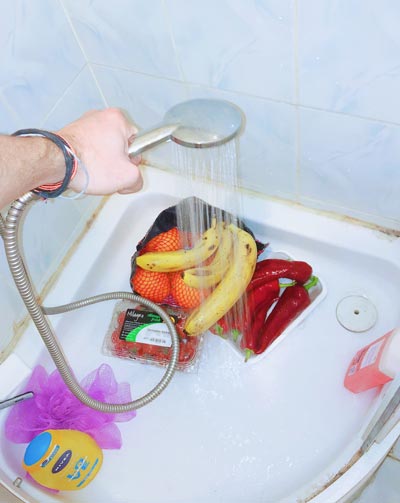 Photo as posted on Instagram, April 2020 by: Yasin Aribuga

CHENDA COPE
A score for outlet in a rural setting.
I have been staying at my family's home in upstate NewYork during the height of the COVID-19 pandemic. Down a quarter mile long driveway at the end of a dead end dirt road, I was as safe as could be. Even amidst a wealth of natural beauty and plants and animals coming to life in early spring, I still felt isolated. Driving became a safe and cathartic way to get out into the world and glimpse the lives of other humans. This video comes out of the daily driving practice I developed during this time.


CHENDA COPE & AVERY FORBES
Gather: Antidotes to Isolation

Collaboration with Chenda Cope and Avery Forbes

Check out @gather_b_together on Instagram or search #gatherinisolation
Please share everywhere.


AVERY FORBES
Hey Siri, I'm Alone
Single channel video
Dimensions variable
Ideally, this piece is projected onto a large flat wall. The artist stands centered in front of the projection in a way that allows the fifth iteration of the screen capture to form a slash across her neck with the speech bar. As the video progresses, the Siri icons form glowing spheres over her mouth, chest and heart. She holds her own phone just below the projection area with the screen out for the audience to see. Throughout the video her own phone responds to the prompts. The phone is a fickle performer. The artist remains perfectly still throughout. She is just the holder for the phone.
No One Came to My Zoom Meeting
Multichannel video
Dimensions variable
Documentation of a performance for one. Taking a screenshot of my Zoom screen, setting it as the virtual background, repeating until mostly obscured, then going back through all of the screenshots in reverse until reaching my own image again. All while desperately trying to smile.
Viewing instructions: Please play simultaneously on as many devices as possible.
Infinity Zoom
Multichannel video
Dimensions variable
Documentation of a performance for one. Holding a zoom meeting with myself using as many devices as I have on hand. Seeing what ensues.
Viewing instructions: Please share at your next Zoom meeting.



ABBEY PACCIA
Those Who Plant Trees:
Those Who Plant Trees
is a meditative essay film, ruminating on stories of regrowth and the healing properties of silence. Made in Amherst, Massachusetts amidst shelter-in-place orders and the sweeping uncertainty of the ever-changing pandemic circumstance, the film wonders about ways that we can choose to think and act in times of global crisis.
Distance:
Distance
is a short daydream about memories of travel while remaining in one place. The film uses soundscapes and narration to transform visual landscapes shot only within the space of a New England apartment.


CLAIRE SIANNA SEAMAN
Italianeggiare
This film really was meant to be made in Italy, however this not-to-be spring break trip was surely amongst the first to be cancelled in light of the restrictions due to COVID-19. This piece is a reflection on longing for a different place, and on how we might attempt to retain aspects of what we feel we've lost, as well as a critique of the filmmaker's own desire to feel connected to a far-away place, a relationship which can never be more true than simply the images themselves.



ELIZABETH SOBIESKI
The Masked Hatter
I have never been a fan of shooting selfies: I don't even possess a selfie stick.  I normally prefer to photograph animals and plants to taking pictures of people.  But after more than fifty days of not emerging from my New York City apartment during the height of the pandemic, when I did appear, most gingerly, my eyes, nose, and mouth were hidden behind various newly purchased masks and dark glasses long secreted in a drawer, and my head, like always, was topped with a hat from my extensive collection.  I no longer had human features, and I found this invisible woman of style a sudden source of intrigue and I was compelled to photograph this wearer of coronavirus chic.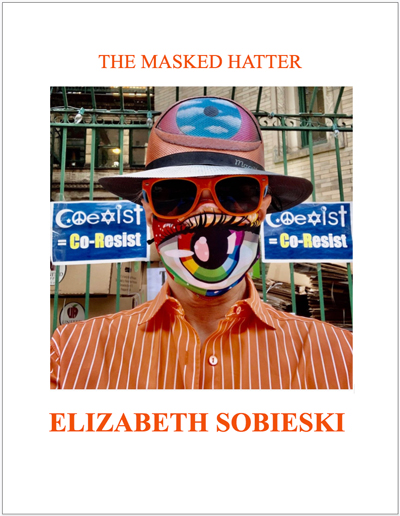 HANNA DUGGAN, AVERY FORBES, CIMA KHADEMI, NIMA NIKAKHLAGH and ABBEY PACCIA - Curated by JENNY VOGEL
Now That We Find Ourselves Here
Documentation of a Zoom event that took place on May 6th, 2020. Participating artists Hannah Duggan, Avery Forbes, Cima Khademi, Nima Nikakhlagh and Abbey Paccia are exploring the potentialities of Zoom as an exhibition space. Curated by Jenny Vogel, this virtual exhibition will test the boundaries of digital interaction through live online performances, and screen shares. Each artist has had to adapt their practices to accommodate shelter-in-place restrictions. This exhibition asked them to push their adaptations even further to see what new experiences could be created. The results are a disorienting journey through cyberspace in which performers attempt to push past the obvious limitations.
 

Biographies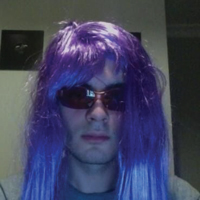 Yasin Aribuga from Istanbul, Turkey, who was born in 1995 does motion design, animation, graphic design, collage, photography and also a little bit of AR here and there. Instagram: twenycrows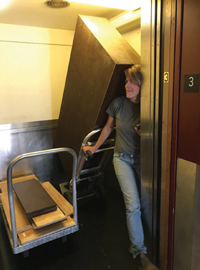 Chenda Cope is a musician, performer and visual artist recently relocated from Philadelphia to Massachusetts where she is pursuing her MFA in Studio Art at UMass Amherst. In form and content, her work is an exploration of care and crisis, asking/wondering/proposing how we can still take care of ourselves and each other while living inside the web of capitalism and its ethic of disposability.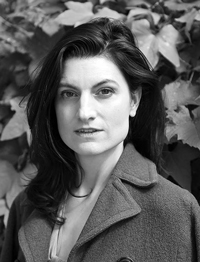 Sally Curcio has exhibited her work in galleries, museums, and for public installations throughout the United States and internationally. She has shown at numerous museums including the Children Museum of the Arts in New York City; the Fleming Museum at the University of Vermont, Burlington and the Bruce Museum in Greenwich, Connecticut. In Massachusetts she has exhibited at the Peabody Essex Museum in Salem; the Fitchburg Art Museum in Fitchburg; the Emily Dickinson Museum in Amherst; and the Historic Northampton Museum. Curcio's work is in the permanent collections of Smith College Museum of Art, Northampton, Massachusetts; the Fitchburg Art Museum, Fitchburg, Massachusetts; and the University Museum of Contemporary Art at the University of Massachusetts Amherst. Curcio's work will be on exhibition at the Newport Art Museum June 20th through September 27th, 2020. Her work has been commissioned for numerous private and public collections, notably the Hassenfeld Children's Hospital at New York University's Langone Hospital in New York City in 2018. In 2019, She was selected as Lead Artist by the Sheikha Manal Little Artists Program at Art Dubai, United Arab Emirates.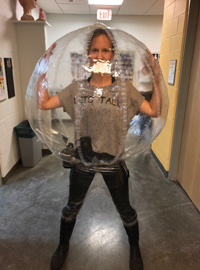 Avery Forbes majored in Visual Arts and Art History at Bowdoin College. She worked professionally as a scenic painter, graphic designer and prop fabricator in New York City for 7 years, creating props for tv shows and films. What she learned there about artifice and design has fed her work in her current position as a Visual Arts MFA candidate at UMass Amherst. Her latest works using Siri, Zoom and other ubiquitous technologies explore the sinister edges of communication mediated through screens. The work uses humor to ask more serious questions about what we sacrifice in ourselves when we turn to our screens for companionship. Website: www.averyforbes.com
Instagram: avery.forbes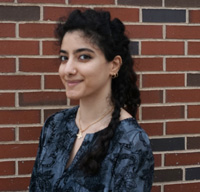 Cima Khademi is a multidisciplinary artist who is currently living in Western Massachusetts as an MFA candidate at Umass Amherst. Cima's work is largely inspired by famous Iranian poets and poetry. She focuses on the notion of 'being' through her Iranian identity within a western culture. She uses various mediums and platforms to give these poetries a space to live as a metaphor for the human experience.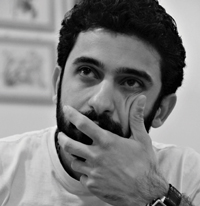 Nima Nikakhlagh is an Iranian interdisciplinary activist-artist who arrived in the United States in 2014. He is currently living and raising his daughter in Western Massachusetts while he works toward his MFA at University of Massachusetts Amherst. His works concerns itself with socio-political power dynamics, political resistance and nonviolent action. Nima's works have appeared/been performed in Tehran, San Francisco, New York, and Massachusetts. Notably, he studied photography and film with Abbas Kiarostami over the course of several years, and had performance entries accepted two consecutive years in Tehran's annual performance art festival Thirty Performances, Thirty Artists, Thirty Days.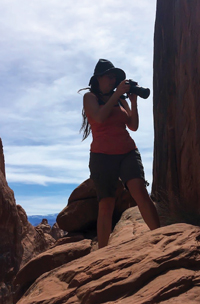 Abbey Paccia has worked as an illustrator, animator and creative professional for over ten years. Much of her work in visual art plays with the shifting perception of natural forms; the process of directing attention toward the insignificant, the overlooked, the mundane. The pencil and camera become tools for collecting; films become curiosity cabinets to house beautiful fragments and small wonders. Abbey is currently an MFA candidate at Umass Amherst focusing on film, animation, photography and mixed media.
More of her work can be seen at www.abbeypaccia.com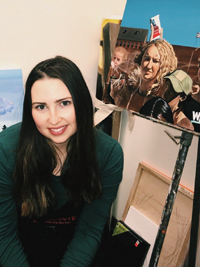 Claire Sianna Seaman graduated from Smith College this May with a major in Studio Art, concentration in Climate Change, and a minor in Italian. She is interested in the critical power of the arts, and the potential they have to help us to understand our culture's driving factors, especially in the face of globalization. After a year abroad in Italy and three years in Northampton, Claire plans to continue her education in the northwest, where she is from. She hopes to combine her passion for environmental issues with love for the arts to create media that lives up to the challenges of our times.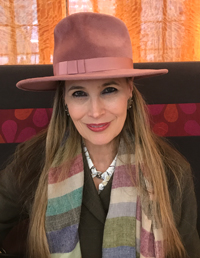 Along with her not-so-secret identity as The Masked Hatter of Instagram, Elizabeth Sobieski is a freelance writer focusing on the arts.  She studied Fine Art at the University of Pennsylvania, before embarking on a career writing for such publications as New York, Cosmopolitan, The New York Post, and Avenue.  She was a Contributing Editor for The Art Economist Magazine and currently writes articles about contemporary art for The Huffington Post, Medium, and White Hot Magazine, as well as providing catalogue essays for artists who are not The Masked Hatter of Instagram. Instagram: themaskedhatter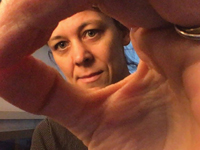 Jenny Vogel is a New Media artist and educator who lives and works in Brooklyn, NY. She received her MFA from Hunter College (NYC) in 2003 and is currently Associate Professor of New Media Art at the University of Massachusetts. Her work has been screened and exhibited in group and solo- shows in numerous locations and galleries: Storefront Gallery, NYC; The Dallas Museum of Art, TX; McKinney Contemporary, TX; FILE Festival 2019 Sao Paulo, San Francisco Camerawork, CA; Arnolfini, UK; The Siberia Biennial, Russia; The Swiss Institute, NYC; EFA Gallery, NYC; Kunstwerke, Berlin; PS1 Contemporary Art Center, NYC.
Comments
Hampden Gallery
Recent Exhibitions
More Information
Hampden Gallery Hours:
Hampden Pop-up Gallery hours:
Monday: 1:30 p.m. - 6:00 p.m.
Tuesday:1:30 p.m. - 6:00 p.m.
Wednesday: 4:30 p.m. - 7:00 p.m.
Thursday: 12:00 p.m. - 6:00 p.m.
Friday: 12:00 p.m. - 6:00 p.m.
*Follows the University's holiday schedule
Contact Information:
Main Number: (413) 545-0680
Gallery Director, Anne LaPrade Seuthe
Gallery Manager, Sally Curcio