Admission is always free.
Please review the University's policy before attending an event or performance.  
Hours
Open Tuesday - Friday, 11:00-4:30; Saturday & Sunday, 12:00-4:00; and first Thursdays until 8:00; when UMass is in session.
Directions
PVTA and Five College buses stop in front of the Randolph W. Bromery Center for the Performing Arts.  
Google map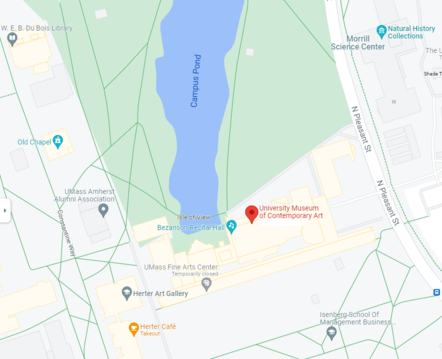 Detailed UMass map
Parking map
Accessibility map
Umass Accessibility Map

Please call ahead for assistance; we're glad to help you.
Address
University Museum of Contemporary Art
Randolph W. Bromery Center for the Performing Arts / UMass Amherst
151 Presidents Drive / Amherst, MA  01003-9931
413 545-3672