DOUG VARONE AND DANCERS
Tuesday, October 20, at 7:30 p.m., Fine Arts Center Concert Hall, Chamber Seating
Performing ReComposed and Lux
 
Doug Varone's kinetically-thrilling dances explore the complexity of the human spirit. From the smallest gesture to full-throttle bursts of movement, Varone's work can take your breath away. The program will feature ReComposed, a visual dance creation inspired by American abstract artist Joan Mitchell's pastel drawings, set to Max Richter's newly constructed version of Vivaldi's The Four Seasons. Doug Varone and his company have been hailed as "superb dancers…always worth seeing" by The New York Times.

Audience members are invited to stay for a post-performance talk with the company immediately following the performance.
 
Monday, October 19, Stripped (performance showcase stripped of costumes/lights)
7 p.m., Hampshire College Dance Studio     FREE for Five College Students!
Hear from the choreographer himself as he reveals the creative process of dance. Acting as emcee, Varone offers an intimate glimpse into the construction of his works. Here, the dancers are dressed only in rehearsal clothes with simple work lighting, offering a behind-the-scenes look into how dance is created, and finishing with "stripped" performance excerpts from the company's repertory. 
Tickets are available by calling or visiting the box office, 413-545-2511.  FREE for Five College Students!
GCC students and 17 & under, $5. General public, $10.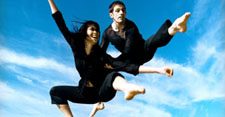 CONNECT
 Artist Website
 Twitter
 Facebook
 Vimeo
 Instagram