Valley Jazz Network



---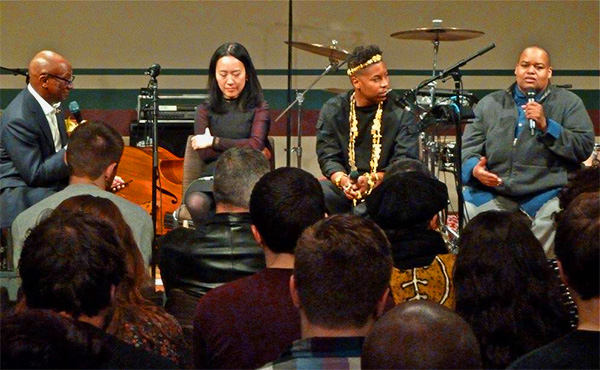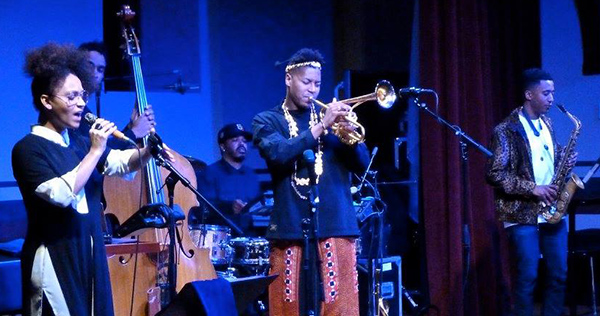 The VJN is an outreach arm of the Fine Arts Center, focused on preserving the legacy of jazz.

The VJN achieves this through its programming designed to offer patrons a more intimate interaction with jazz and jazz artists. We serve as a network to promote jazz in the Pioneer Valley. We do this through programs and partnerships. We produce small concerts called "informances", educational programs, and listening parties in various community venues in Amherst, Greenfield, Holyoke and Springfield.

WHAT IS A LISTENING PARTY?
A listening party is a small and intimate event, where attendees have a chance to talk with jazz musicians, and listen to the music that has inspired them. VJN sponsored listening parties and intimate receptions with Tia Fuller, Jane Monheit, Emery Smith, Grace Kelly, Regina Carter, Warren Wolf, Ambrose Akinmusire, Sheila Jordan and more. The information sharing is fascinating. The event is always memorable!

WHAT IS AN INFORMANCE?
Informances are interactive gatherings, where audience members are encouraged to ask questions, and performers often demonstrate the answers through performance. Our past informances have included sessions on African Rhythms in Jazz, Latin Jazz, and Contemporary Jazz. Artists have included Bob Weiner, Felipe Salles, The Gonzalez Brothers, Jason Robinson and Miguel Zenon.

BECOME AN ACTIVE MEMBER
Membership in the Valley Jazz Network is free. If you are interested in being more involved, or serving on a Steering Committee, or helping to organize activities, see our Organizing Principles for more details.

For information on joining this cohort of jazz lovers whose mission promises to bring a positive influence on the presentation of "America's Classical Music" (Dr. Billy Taylor), contact Yvonne Mendez  at 413-545-4161 or email.

VALLEY JAZZ NETWORK
BE A PART OF THIS VIBRANT COMMUNITY OF JAZZ ENTHUSIASTS!


2019-2020  VJN Events



A series of events honoring the innovative spirit of drummer Max Roach.



•  October 23 from 6:30-9:30 pm - CONVERSATION: Drummers As Trendsetters, New Africa House Theater (basement level)
Drummers are place right up front, as they discuss the legacy of Max Roach and how they themselves fulfill a role as a trendsetter in the industry. The panelists include TERRI LYNE CARRINGTON, renown drummer, composer and producer; MAKAYA MCCRAVEN UMass alumni, beat scientist and popular drummer; ROYAL HARTIGAN, who studied extensively with Max Roach; and moderator STEPHANIE SHONEKAN, chair of the UMass W.E.B. Du Bois Department of Afro-American Studies. Followed by mini-concert with MTALI BANDA.

•  October 24th from 4-6 pm - CONVERSATION: The Life and Legacy of Max Roach, New Africa House Theater. With special opening performance by TBD [please note, Terry Jenoure is not able to perform as previously advertised.]
Max Roach was an exceptional musician as well as a dedicated civil right leader. He was a member of the UMass Music faculty from 1972 until his retirement in 1994. One of the first jazz musicians to teach full-time at the college level, Roach joined the UMass W.E.B. Du Bois Department of Afro-American Studies faculty as a tenured professor, and was one of the founders of the Jazz in July Summer Program along with Billy Taylor and Frederick Tillis. Panelists include famous poet SONIA SANCHEZ, Max's daughter MAXINE ROACH, Max Roach's biographist HERB BOYD visual artist and colleague of Max Roach NELSON STEVENS, and moderator JOHN BRACEY, faculty member, UMass W.E.B. Du Bois Department of Afro-American Studies.

•  October 24 at 7:30 pm - PERFORMANCE: Money Jungle: Provocative in Blue by Terri Lyne Carrington Quartet. 7:30 pm, Bowker Auditorium. (6:30 pm pre-show talk by Amherst College's Claire Arenius on the significance of the original Money Jungle album )
For 40 years, drummer Terri Lyne Carrington has worked with luminary artists such as Herbie Hancock, Wayne Shorter, Cassandra Wilson, Dianne Reeves, John Scofield, Esperanza Spalding and countless others. Carrington is also the first female artist to win a Grammy for Best Jazz Instrumental Album. This specially-curated performance of Money Jungle, is based on the legendary album of the same name which featured Charles Mingus, Max Roach and Duke Ellington. The performance will feature a special appearance by poet Sonia Sanchez.  
       





NOVEMBER 2019 - MELISSA ALDANA. Listening Party with the artist Wed. Nov. 13th. RSVP required. Limited seating.    
MARCH 2020 -  ROMAN DIAZ ENSEMBLE (with Magic Triangle) TBD.
APRIL 2020 - SF JAZZ COLLECTIVE -  6:30 pm Pre-show Listening Party with Etienne Charles. 
 
* * * * * * * * * *
PAST VJN  EVENTS  

     

2018 -2019

NOV. 14 reception with MIGUEL ZENON AND SPEKTRAL QUARTET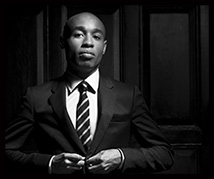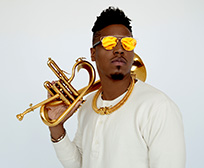 FEB. 8, 2019 - AARON DIEHL     •        Week of FEB. 14 - CHRISTIAN SCOTT




MARCH 2019 - JANE BUNNETT: MAQUEQUE  (Presented by Magic Triangle Series)
Listening Party, Post show reception and special community events presented by VJN in conjunction with FAC performances happen on or around the dates mentioned above.
More specific details are sent via email to VJN members. BECOME A MEMBER (see below)



2017-2018

Listening Party with Theo Croker*
Monday, November 13, 2017 @ 7:30 p.m.
RSVP required. yvonne@umass.edu or call 413.545.4161.
[Performance in Bowker Auditorium is Wednesday, November 15, 2017 BUY TICKETS]

The Message*
Listening Party: TBA
[Performance in Bowker Auditorium is February 22, 2018. BUY TICKETS]
All events subject to change. For RSVP and info: email yvonne@admin.umass.edu or call 413.545.4161.

* These events are in conjunction with the FAC Center Series. For tickets visit fineartcenter.com

VJN Informance!

JAZZ MUSIC AND SOCIAL CHANGE

• April 3, 2018 • Old Chapel, UMass Amherst


7:00 p.m. CONVERSATION &  8:30 p.m. CONCERT featuring Helen Sung; and then Christian Scott & his sextet.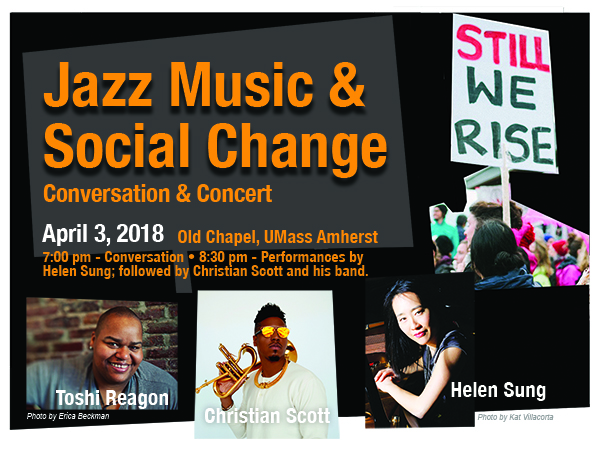 Through their work, musicians often focus or dedicate their talent on giving voice to civil rights and social change, strengthening the breadth and depth of social activism. On April 3rd, the Valley Jazz Network hosts JAZZ MUSIC AND SOCIAL CHANGE a Conversation & Concert* creating a public platform for sharing and understanding how some artists use their talent to forward social issues and contribute a positive impact on society. At the table will be three world-class musicians: renown activist, lyricist and singer Toshi Reagon, trumpeter Christian Scott aTunde Adjuah, and Asian American pianist Helen Sung. 

* Concert featuring a short set with Helen Sung; and then a full set with Christian Scott and his band.
 
*   *   *   *   *    *    *   *    *    *    *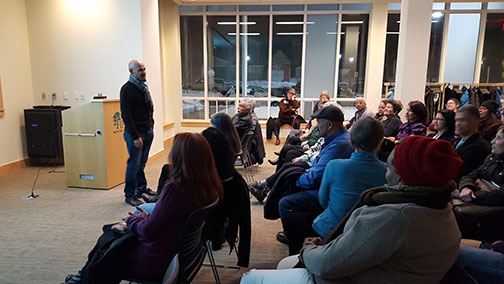 Miguel Zenon at Holyoke Public Library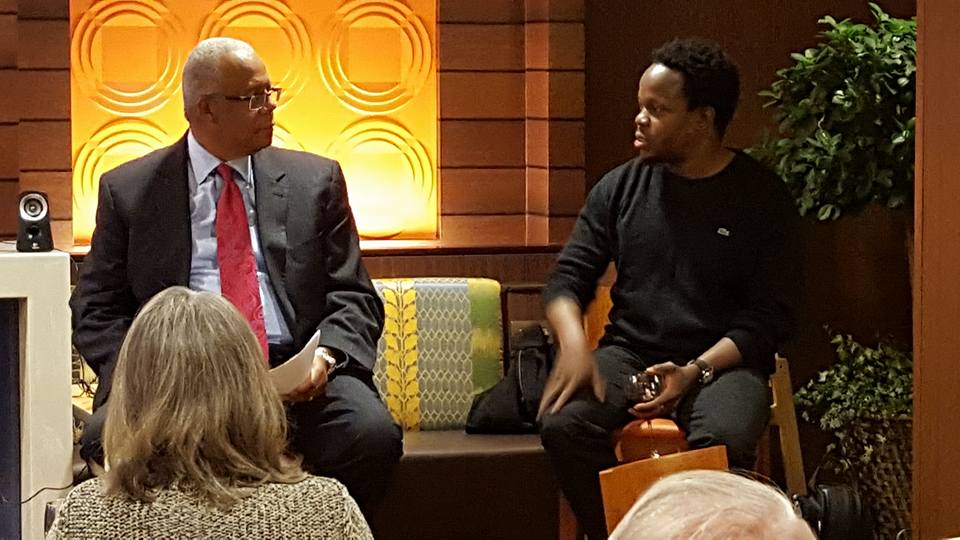 Listening Party: Willie Hill interviews Ambrose Akinmusire in Northampton, MA

 

"LIKE" OUR  FACEBOOK PAGE: On the Valley Jazz Network Facebook page you will find all sorts of jazz-related events, workshops, lectures, etc. Jazz events throughout the Valley.

Valley Jazz Network
Membership is free.

Contact Yvonne Mendez at 413-545-4161; email her.

About
Organizing Principles