Paddy Moloney
THE CHIEFTAINS
And Special Guests
Sunday, March 8, 7 p.m., Fine Arts Center Concert Hall
$60, $55, $20; Five College, GCC and 17 & under $20, $15, $10

Back by popular demand! Six-time Grammy winners, The Chieftains have uncovered the wealth of traditional Irish music that has accumulated over the centuries, making the music their own with a style that is as exhilarating as it is definitive. Never afraid to shock purists and push boundaries, The Chieftains have amassed a dizzyingly varied résumé. Their most recent album, "Voice of Ages," found the band collaborating with some of modern music's fastest-rising artists (Bon Iver, The Decemberists, The Punch Brothers and the Pistol Annies among them) to reinterpret traditional songs for old and new generations alike, proving what the music means today while hinting where it might lead tomorrow.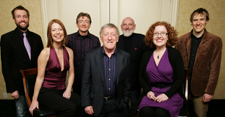 CONNECT
Website