Erth'S DINOSAUR ZOO Live™
 
Sunday, April 13, 4 p.m., Fine Arts Center Concert Hall
$20; Five College/GCC/STCC Students and Youth 17 & under: $10; Family Packs (Two adults, Two Youth: $50
Erth's DINOSAUR ZOO Live
™ takes you on a tour through pre-historic Australia, bringing an eye-popping array of ancient creatures to life on stage.  You will observe and interact with extraordinarily life-like creatures, just like those that inhabited the Southern Hemisphere millions of years ago.   Meet a menagerie of insects, mammals and dinosaurs in their ancient environment, in this highly imaginative, entertaining and educational live show.   From the sweetly curious baby
Dryosaur
, to the peaceful hulk
Titanosaur
, and even the teeth-gnashing
T-rex
--
Erth's DINOSAUR ZOO Live
™ is a unique interactive theater performance that stimulates the imagination in a way that connects children to their world.  Erth's large-scale puppets were developed in consultation with paleontologists, based on current science and interpretations of fossil evidence.   Employing sophisticated design and electronics, these giants are brought to life by skilled performers and puppeteers, made all the more real through the magic of theatre. 
Appropriate for ages 6 and up.
Family Fest: Ticket holders are invited to a free pre-show party in the lobby from 3-4 p.m.
Did you know that dinosaurs once lived right here in the Pioneer Valley?
Ticket holders are invited to attend our preshow FamilyFest from 3-4 pm in the Fine Arts Center Concert Hall Lobby to find out more!
Speak with a USDA state geologist from the Jurassic Road Show about dinosaur fossils on display. See how the dryosaur fossil (featured as the baby dinosaur in ERTH's Dinosaur Zoo Live!) made its way to the floor of the The Beneski  Museum of Natural History Amherst College. Create a paper plate dinosaur with staff from The Trustees of Reservations (and find out about a secret trail leading to a rock slab of dinosaur footprints located right in Holyoke!)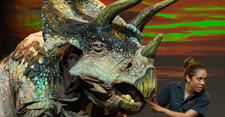 Connect