Hair
Concert Hall
Winner! Best Musical Revival 2009 Tony Award!
$60, $50, $25; FC, GCC, STCC and 17 & under $20
This exuberant musical about a group of young Americans searching for peace and love in a turbulent time has struck a resonant chord with audiences young and old. Hair features an extraordinary cast and unforgettable songs, including "Aquarius," "Let the Sun Shine In," "Good Morning, Starshine" and "Easy To Be Hard." Its relevance is undeniable. Its energy is unbridled. Its truth is unwavering. It's Hair, and it's time. "Irresistible. The best version yet!" - Peter Marks, The Washington Post. "If this explosive production doesn't stir something in you, it may be time to check your pulse." - Variety
(Advisory: contains brief nudity and mature subject matter.)

In a year marked by as much social and cultural upheaval as 1968, it was understandable that the New York Times review of a controversial musical newly arrived on Broadway would describe the show in political terms. "You probably don't have to be a supporter of Eugene McCarthy to love it," wrote critic Clive Barnes, "but I wouldn't give it much chance among the adherents of Governor Reagan." The show in question was Hair, the now-famous "tribal love-rock musical" that introduced the era-defining song "Aquarius" and gave New York theatergoers a full-frontal glimpse of the burgeoning 60s-counterculture esthetic. Hair premiered on Broadway on April 29, 1968. Hair, was the first rock musical to make a play for mainstream success on the Great White Way. But the novelty of the show didn't stop with its music or references to sex and drugs. Hair also featured a much-talked-about scene at the end of its first act in which the cast appeared completely nude on the dimly lit stage.

Hair quickly became not just a smash-hit show, but a genuine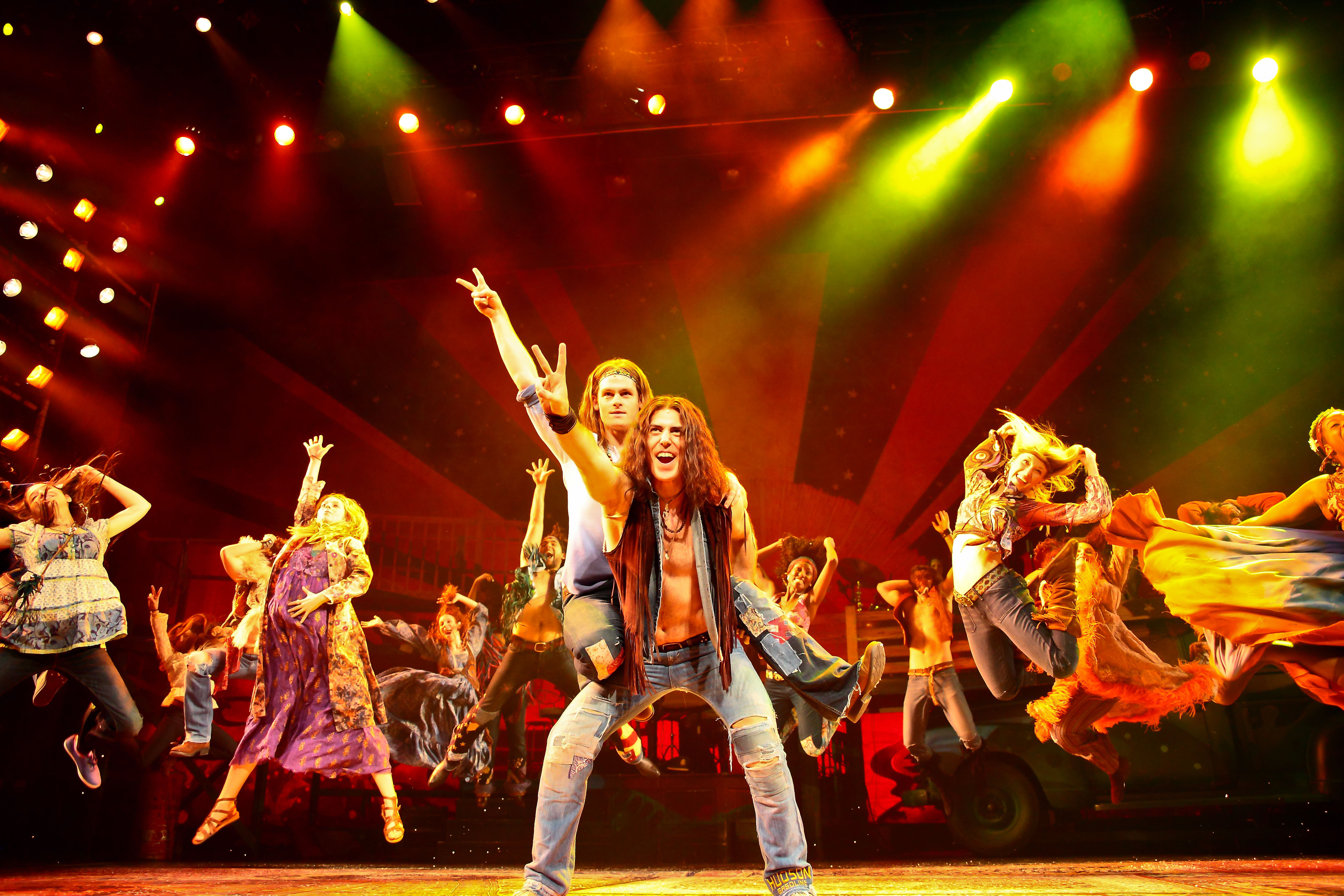 cultural phenomenon that spawned a million-selling original cast recording and a #1 song on the pop charts for the Fifth Dimension. Forty years after its initial downtown opening, Charles Isherwood, writing for the New York Times, placed Hair in its proper historical context: "For darker, knottier and more richly textured sonic experiences of the times, you turn to the Doors or Bob Dylan or Joni Mitchell or Jimi Hendrix or Janis Joplin. Or all of them. For an escapist dose of the sweet sound of youth brimming with hope that the world is going to change tomorrow, you listen to Hair and let the sunshine in."
Creative Dialogue
Wednesday, April 24 12:20 p.m. – 1:10 p.m., UMass, Bartlett Hall, Room 65, Free
This lecture, a part of Theatre 100, looks at Hair as a groundbreaking piece of musical theater. UMass Theater Professor Megan Lewis will explore issues of race, sexuality and anti-war statements made by the piece, as well as the sociopolitical and historical contexts of the 1960s and its application today. Call 413-545-0190 for more information
FAC-i-ped-i-a: Running time 2 hours, 25 minutes (including intermission). April 29th, 2012 will mark the 45th anniversary to the day when Hair opened on Broadway in 1968.
Stick around after the performance for the "Let Your Hair Down: Mohegan Sun After Party" on the FAC plaza. It's free and all generations are welcome. Whether you're from the hippie generation or the hip "Mad Men" generation, we'll get you feelin' groovy with a 60's dance party. There will be music, refreshments, and a cash bar with a special "Emma Peel" cocktail. Dress to impress as hippies or swingers and win prizes.