KENNY GARRETT QUINTET
Saturday, April 5, 8 p.m., Bowker Auditorium
$30, $15; Five College/GCC/STCC Students and Youth 17 & under: $10
The concert is presented in conjunction with the 16th Annual High School Jazz Fest where many of New England's most promising young jazz musicians participate in day-long performances and clinics in the Music Department.
Opening Act: Be sure to come at 7:30 p.m. to hear a selected high school ensemble perform.


Easily one of the most respected saxophonists in the world today, Kenny Garrett plays with a spiritual bent that has been known to possess audiences and a fire that leaves admirers panting for more. From his first gig with the Duke Ellington Orchestra through his time spent with Miles Davis, Garrett has always brought a vigorous yet melodic, and truly distinctive, alto saxophone sound to each musical situation.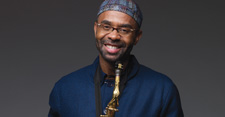 CONNECT
Artist's website
Facebook: http://www.facebook.com/pages/Kenny-Garrett/108097295885049