Jessica Lang Dance
Thursday, February 8, 2018 at 7:30PM
Fine Arts Center Concert Hall
Master's class at Hampshire College and panel discussion at UMass Amherst associated with Jessica Lang Dance scheduled for today (2/7/18)  are cancelled due to weather.
Hailed as "a master of visual composition" by Dance Magazine, Jessica Lang Dance seamlessly incorporates striking design elements and transforms classical ballet into artfully engaging works that feature athletic and gifted performers. This New York City-based company enriches and inspires by immersing audiences in the spectacular beauty of gorgeous design, movement and music. Among the pieces to be performed are Tesseracts of Time, created in collaboration architect Steven Holl, and Thousand Yard Stare, honoring wounded veterans and all of those affected by war.
 
Complete Program Information for Jessica Lang Dance   
Pre-show talk in the lobby at 6:30 pm with Jessica Lang on her work "The Thousand Yard Stare"
Post-show discussion with members of the company immediately following the performance

Ticket Prices
$45, $35, $20; Five College Students & Youth 17 and Under $15, $12, $10; Under40TIX  $25
Please call the Box Office to see if you or someone in your party is eligible for a discount.
Accessible Seating Available by calling the Box Office at 413-545-2511

Prix fixe dinner available at the UClub before the concert. Details at fineartscenter.com/prixfixe.




"Dance, Architecture, & Design: A Conversation with Choreographer Jessica Lang"
Wednesday, February 7, 1 pm, FAC Lobby
FAC's director of programming, Dr. Aaron Shackelford, will host choreographer Jessica Lang along with professors Jane Thurber of Landscape Architecture, Caryn Brause of Architecture, and Patricia Galvis-Assmus of Art and Information Technology for a panel presentation and discussion on collaborations. The conversation will explore the development of the Lang and Stephen Holl piece "Tesseracts of Time" as well as interdisciplinary collaborations as design choice with an eye toward giving students an idea of how to approach new collaborators.
Artist Webpage:
http://www.jessicalangdance.com/
Artist Facebook:
https://www.facebook.com/JessicaLangDance/
Artist Twitter:
https://twitter.com/JessicaLangJLD
Choreographer Jessica Lang, a recipient of a prestigious 2014 Bessie Award and 2017 Arison Award, has created more than 95 works on companies worldwide since 1999, including American Ballet Theatre, Pacific Northwest Ballet, Birmingham Royal Ballet (2013 Manchester Theatre Award nominee), the National Ballet of Japan, and Joffrey Ballet, among many others. Additional commissions include new works for the Kennedy Center with the National Symphony Orchestra, The Harris Theater and the Chicago Architecture Biennial in collaboration with architect Steven Holl, the Dallas Museum of Art, and the Guggenheim Museum for its Works and Process series. For opera, Lang made her directorial debut creating Pergolesi's Stabat Mater at the 2013 Glimmerglass Opera Festival. In 2016, she choreographed San Francisco Opera's production of Aida directed by Francesca Zambello, which will be performed by Washington National Opera and Seattle Opera in the 2017-18 season.
Lang was a 2015 New York City Center Fellow and a 2016 Fellow at the NYU Center for Ballet and the Arts. This year she has been the Emerging Movement Artist in Residence for Dance Films Association. She was one of the founding faculty of American Ballet Theatre's Jacqueline Kennedy Onassis School and has been a teaching artist for the Make-a-Ballet program. A graduate of The Juilliard School under the direction of Benjamin Harkarvy, she is a former member of Twyla Tharp's company, THARP!
Her receipt of a Joyce Theater Artist Residency, supported by the Andrew W. Mellon Foundation, helped her launch Jessica Lang Dance (JLD) in 2011. Based in Long Island City, JLD has performed at such major venues and festivals as Jacob's Pillow, Brooklyn Academy of Music's Next Wave Festival, New York City Center's Fall for Dance Festival, the John F. Kennedy Center for the Performing Arts, the Joyce Theater, the Harris Theater for Music and Dance, Northrop Auditorium, Winspear Opera House, and Palacio de Bellas Artes. The company's performances have been named among the best dance events of the year by major publications in Dallas, Chicago, Kansas City, and Boston. In 2014, JLD made its Kennedy Center debut with Scape, set to John Adams's Violin Concerto and played live by violinist Leila Josefowicz with the National Symphony Orchestra.
"[Lang is] a prolific choreographer of skillfully constructed dances that respectfully mesh with music and striking visual design."
The New Yorker
"In Lang's choreography, less is more, and movement evolves naturally out of relationships."
Boston Globe
"Lang made a name for herself as a freelance choreographer long before she started her own company. She wanted total artistic control over every aspect of her vision. Her work blends contemporary dance and ballet to great modern effect, and she is meticulous: Everything onstage, from the lighting to the costumes, must have purpose."
Los Angeles Times
Wednesday, November 1 at 7:30 p.m.
Fine Arts Center Concert Hall
This renowned ensemble presents The Spirit of Argentina, a loving tribute to Carlos Gardel, a French-Argentine singer, songwriter, composer, and actor, and the most prominent figure in the history of tango. You'll discover his passions for futbol, boxing, and gauchos, and get glimpses into his life in Paris, his appearance on Broadway, and his friendship with the young Astor Piazzola. Tango Buenos Aires has become one of Argentina's great cultural exports, known throughout the world as the most authentic and uncompromising representative of the tango.
Pre-show talk in the Concert Hall Lobby at 6:15 pm. Tango Demonstration in the Concert Hall Lobby at 6:45 pm.
---
Thursday, March 29 at 7:30 p.m.
Fine Arts Center Concert Hall
BalletX, Philadelphia's premier contemporary ballet, unites distinguished choreographers with an outstanding company of world-class dancers to forge new works of athleticism, emotion, and grace. Founded in 2005 by Christine Cox and Matthew Neenan, BalletX challenges the boundaries of classical ballet by encouraging formal experimentation while preserving rigorous technique. The company will perform a mixed-rep program, including Trey McIntire's Big Ones, set to music by Amy Winehouse.
Post-show discussion with members of the company immediately following the performance.
---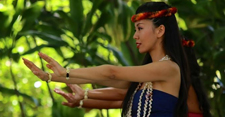 Tuesday, April 3 at 7:30 p.m.
Bowker Auditorium

Celebrating 30 years of performing, the Halau Hula Ka No'eau Ensemble captivates audiences with their exquisite, culturally authentic Hawaiian dance. At this performance, choreographer and cultural historian Michael Pili Pang presents a new work, based on legends about the divine creators of the Hawaiian Islands, that innovatively combines traditional hula, music, and chants. (This show was rescheduled after a weather cancellation the previous season.)

Pre-show talk in Bowker Auditorium at 6:30 pm.
---
Sponsors: