TAIYUAN PUPPET THEATRE FROM TAIWAN
Sunday, March 1, 2 p.m., Bowker Auditorium
General Admission: $15; Five College, GCC, Seniors and 17 & under $10
 

A Sea of Puppets is a traditional Taiwanese hand and glove puppet show performed on a beautifully carved wooden stage by a professional ensemble from the Taiyuan Puppet Theatre Company. With amazing skills, the puppeteers bring the exquisite puppets with embroidered costumes to life. They perform not only delicate gestures, but also exciting fighting scenes and acrobatics.  The story is a romantic tale in which a young man saves a girl from the hands of a villain (clown character). Audiences will see all the characters of traditional Taiwanese puppet theatre: the young lady, the scholar, as well as the clowns and the villains.  The show has been performed in over 30 countries, and provides a fascinating glimpse of one of the most beautiful theatre performances in the world. Powered by the virtuosity of the Taiwanese puppet performers and accompanied by traditional music, the show uses no dialogue and is suitable for all ages.
 
A short talk by Ms. Wu Shanshan, Executiver Director of Taiyuan Puppet Theatre Company will introduce the performance. 
 
Spotlight Taiwan events are funded in part by the Ministry of Culture, Republic of China (Taiwan) and Special patron Dr. Samuel Yin, with additional support from Five Colleges, Incorporated.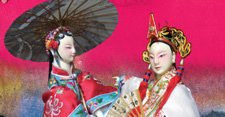 CONNECT