TAIYUAN PUPPET THEATRE FROM TAIWAN ARTIST
The Taiyuan Company performs innovative visual music theatre with puppets, actors, video, and musicians, and cooperates with artists from different backgrounds and nationalities. The company's initial inspiration derived from the Taiwanese glove puppet theatre that has a rich and varied tradition in which music, carving, embroidery, and delicate performance techniques all come together. Taiyuan was founded 14 years ago by Dr. Paul Lin and artistic director Robin Ruizendaal to continue this tradition, while at the same time creating new modern theatre performances within a distinct Taiwanese context with a great team of artists.  The company's shows have been performed in over 50 countries and at venues such as the Purcell Room and the Victoria and Albert Museum in London, the rainforests of Central America, the Traditional Opera Theatre in Hanoi, Union Square in San Francisco, Casa Mila Barcelona, the countryside of Cambodia, and of course, the squares and theatres of old Taipei. The company is based at the Lin Liu-Hsin Puppet Theatre Museum in Dadaocheng, the old centre of Taipei.
 
Dr. Robin Erik Ruizendaal
Director of Lin Liu-Hsin Puppet Theatre Museum, Managing and Artistic Director of Taiyuan Puppet Theatre Company has a Ph.D. in Sinology from Leiden University (the Netherlands).  Robin Ruizendaal is an authority on Asian puppet theatre and has published widely on the subject.  He is the co-founder of the company and has been promoting Taiwanese puppet theatre for over 15 years.  As artistic director of the company he was involved of the creation of over 20 innovative plays that have been performed around the world.
 
Lai Shih-An
Born in 1971, Lai Shih-An is a skilled performer, who performed over 500 shows together with puppet master Chen Xihuang, a national treasure of Taiwanese puppet theatre. Lai also started studying puppet carving when still in high school. Lai is skilled at carving various characters of the traditional puppet shows, as well as modern puppets.
 
Lin Yen-Chih
Lin Yen-Chih is a puppeteer in the Taiyuan Puppet Theatre Company, where he performs both traditional and modern show. He is also involved in the stage and graphic design of the productions, as well as puppet making.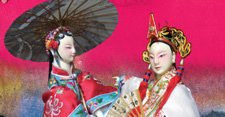 CONNECT