Traces by Les 7 Doigts De La Main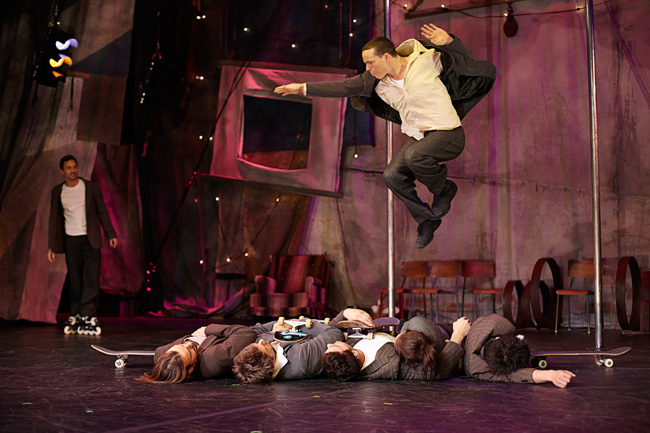 Concert Hall
TRACES combines awe-inspiring acrobatics with infectious urban energy. Entertainment Weekly hailed it as, "The most fun and memorable 90 minutes you will have all year." Time Out NY gave TRACES its highest "FIVE STARS" rating, describing it as a thrilling modern brand of circus with a street smart twist and TIME Magazine has named TRACES among the Top Ten Plays and Musicals of 2011.
$40, $35, $15; FC, GCC, STCC and 17 & under $10
"Eye-popping athleticism, fluid grace and chiseled physiques make for the sexiest circus in town"
– New York Daily News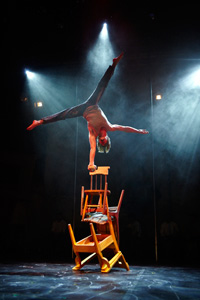 Fusing the traditions of circus with the energy of street performance, the artists of TRACES employ every trick in the book—from music, dance, and illustration to skateboarding, basketball, and high-risk acrobatics—to make a lasting impression. TRACES, which has been called "a whole new kind of awe-inspiring theatre" (NBC TV), is spectacularly anti-spectacle, relying instead on the fantastic abilities of the performers, individuals who appear to be nothing more than a group of friends, just as easygoing, affable, and potentially clumsy as the guy next door—until they unleash ninety minutes of heart-stopping acrobatics and unbridled energy that leave audiences breathless and exhilarated. TRACES is the ultimate affirmation of life and a celebration of the particular talents of endearing young artists so eager to please that they literally jump through hoops for you.
And yes, this event is appropriate for families with children of all ages.
FAC-i-ped-ia: Traces is high energy urban acrobatics with dynamic, heart-pounding music and movement. Running time is: 90 minutes, no intermission. If you liked Circa from our 2011-12 season,  you'll love this.