WORD BECOMES FLESH OUTREACH EVENTS
Monday - Thursday, October 7 – 10*
*Monday, Oct. 7 evening and Thurs, Oct. 10 post-show reception OPEN to the public!
6-7.30pm "Word Becomes Flesh: an Evening on Race, Poetry, and Politics" – OPEN to public!
Stirn Auditorium, Amherst College. FREE. This evening event will explore some of the principle access points for critical social examination put forth by the poignant and explosive performance piece Word Becomes Flesh. Hampshire students Urantia Ramirez and Jorrell Watkins will open this dynamic evening with spoken word performance.
Christopher Grobe
, Assistant Professor of English at Amherst College, will give a brief overview of poetry performance as a political act and of poetry readings as activist gatherings.
Christina Knight
, Visiting Assistant Professor of Black Studies at Amherst College, will discuss the performance as a celebration of black fathers, but one that raises the question of where women fit into its politics of parenthood.  Must masculinity always be invoked at women's expense?
Christopher Tinson
, Assistant Professor of African American Studies at Hampshire college will speak on solidarity and strikes against the carceral state.
Gilbert McCauley
, Associate Professor of Theater and Student Bridges Faculty Advisor at UMass Amherst, will emcee the evening.
Map for directions and parking

Oct. 8, Tuesday
Morning workshops at Renaissance High School, Springfield. – closed to public
Afternoon for UMass Theater 130 class 'Contemporary Playwrights of Color' – closed to public
HISTORY OF HIP HOP workshop:
From the streets of NYC- around the world and back again, Hip Hop is an undeniable
force in our lives. As an innovative force in its embryonic stages of development to the
billion dollars in revenues it brings in as a commodity, this music is the soundtrack of the
world. This workshop deconstructs the celebrated beginnings of hip-hop as it relates to
culture, survival, creativity, lyrical penmanship, and the unique creation of an American
music form. Discussions are structured to dissect Hip Hop's tremendous contributions to
our lives, its responsibility and resulting parenting of our children, as well as future
ramblings of an American art form. Through the use of performance and dialogue,
participants engage the art form with a multi-layered approach and history-centered
focus.

 
Oct. 9, Wed
Morning workshop for Hampshire College African American Studies CSI-132T 'McKay, Robeson, and Assata: Radical Ruptures'  - closed to public
SPOKEN WORD 101-501 workshop.
Afternoon workshop for Amherst College for classes Black Studies 233 'New Territory: Intro to Black Performance Studies' and English 115-05 'Novels, Plays, Poems" – closed to public
NIGGER MENTALITY workshop:
In Word Becomes Flesh, the scene entitled NIGGER MENTALITY takes audience
members on a journey into the birth of the word NIGGER, and its accompanying
MENTALITY. The subject matter of this workshop is sensitive and demands an ability to
think about the word and subject matter in a critical and mature way. Marc Bamuthi
Joseph mythologizes the origination of the NIGGER MENTALITY, allowing for a rich
and thoughtful presentation of subject matter that is important and charged. Members of
the ensemble perform the scene, NIGGER MENTALITY, and invite participants to
discuss the genealogy as it is detailed through the text and performance. 


Oct. 10, Thursday
10am Word Becomes Flesh, Global Arts student matinee performance
Principally offered to high school students, but also open to all college students with a valid college ID. This performance will be unabridged and identical to the evening public performance. Please call the Global Arts line at 413. 545. 2116 to purchase tickets.
7.30pm Word Becomes Flesh, Center Series performance – OPEN to public!
Please call the Box Office at 413. 545. 2511 to purchase tickets or online 
Post-show Reception at the Campus Center Reading Room – OPEN to public!
After the evening performance, please join us for light refreshments to meet the performers. The Reading Room is a two minute walk from Bowker Auditorium into the Campus Center.  Come to ask your questions of the ensemble, share your story, share your response to the performance, enjoy the edibles and the company!  
Map to Bowker Auditorium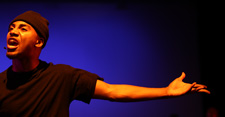 CONNECT
Artist's website
Facebook: https://www.facebook.com/marcbamuthijoseph
Twitter: @bumuthi