WORD BECOMES FLESH
Thursday, October 10, 7:30 p.m., Bowker Auditorium
$25, $15; Five College/GCC/STCC Students and Youth 17 & under: $10

A series of performed letters to an unborn son, Word Becomes Flesh (WBF) uses spoken word, dance and live music to document nine months of pregnancy from a young single father's perspective.

Performed by an exceptionally talented cast of emerging poet-performers, WBF fuses tender stories, playful wit―and at times, purposeful rage―to give voice to complexities and contradictions surrounding race and gender in America.

With deep honesty and raw physicality, the play integrates hip-hop theatre and contemporary dance performance to deconstruct black male identity in the 21st century. WBF critically, lyrically and choreographically shares one man's experience of fatherhood-and in doing so examines the legacy of patriarchy and male privilege, the continuum between fathers and sons, and the relationships of women and men. Together these narratives confront the intersection between the reality and the mythology of the black male body-from the cotton field to the athletic field and all spaces in between.

Written and Directed by Marc Bamuthi Joseph. Written and Performed by Dahlak Brathwaite, Daveed Diggs, Dion Decibels, Kahlil Anthony, Michael Turner and B.Yung.

Run time: 60 minutes

Funded in part by the Expeditions program of the New England Foundation for the Arts, made possible with funding from the National Endowment for the Arts, with additional support from the six New England state arts agencies.
Post- show discussion/reception with the artists in the Campus Center Reading Room immediately following the performance.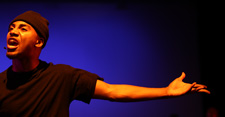 CONNECT
Artist's website
Facebook: https://www.facebook.com/marcbamuthijoseph
Twitter: @bumuthi